The successful two-day event was attended by professionals from all over the world including Canada, the United States, Europe, India and more. These international delegates were a great mix of Valve Subject Matter Experts, Procurement Managers, Piping Engineers and Materials Specialists, including representatives from such influential companies as Phillips 66, Fluor, The Dow Chemical Company, Jacobs Engineering, Shell and many others.
Held at the George R. Brown Convention Center, the event was well-attended by visitors who enjoyed walking the exhibition floor and speaking with knowledgeable exhibitors. Visitors and exhibitors alike were able to network and obtain quality leads. In total, over 300 companies exhibited as part of the event. Also located in the heart of the Expo Floor were the two speakers' Corner stages, which hosted presenters who discussed a variety of topics and performed live demonstrations and we had the unique opportunity to introduce new student research technologies from San Jacinto College and the University of Houston.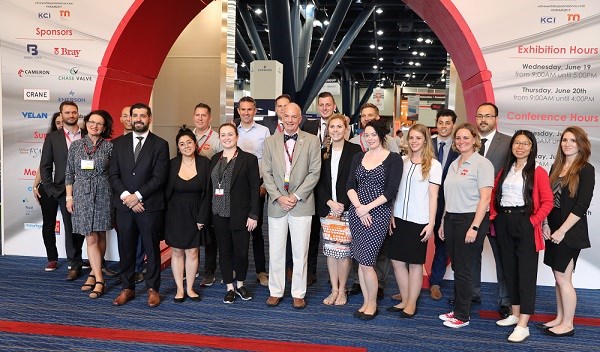 The conference, which ran concurrently with the exhibition, began each day with keynote lectures given by representatives from MRC Global, Emerson, Phillips 66, Tesoro's Par Hawaii Refining, Dow Chemical and professional motivational speakers Mary Kelly and Meridith Elliott Powell. This year, we had the pleasure to introduce Tim Goedeker of Senior Principal Environmental Consultant of HSE, Refining, Phillips 66 as our Chairman. 
Conference sessions were filled with interested delegates who challenged the speakers with educated and thoughtful questions and many in-depth discussions followed. It was thrilling to see industry professionals sharing ideas and collaborating on important industry topics such as Fugitive Emissions, Supply Chain/Approved Manufacturers List, Best Practices, Connected Services/Internet of Things, Testing, Maintenance, Pipeline Valves, Actuated Valve Assembly, Fit for the Application Control Valve Approach, Valve Design, New Technologies and more. In total there were 15 different workshops with a variety of presentations and panel discussions, including offering the first fully-dedicated Spanish language session, which was very well-received by attendees.
Additionally on June 18th, the day before the conference officially began, six informative courses were held on the following topics: Valve Essentials, Fugitive Emissions, API 6D Pipeline Valves and Fluid Sealing Association Courses.
The Valve World Americas Expo & Conference team would like to thank the Conference Chairman, Mr. Tim Goedeker of Phillips 66 and the steering committee for all their hard work in creating an interesting and educational conference program.
Valve World Americas would also like to take the opportunity to recognize the support of our main event sponsors: Bonney Forge, Bray, Cameron, Chase Valve, Crane, Emerson, MRC Global and Velan, as well as the conference supporters: The Valve Manufacturers Association of America (VMA), the Fluid Sealing Association (FSA) and the Society of Piping Engineers (SPED).
Please look for a full retrospective of the event including photos in the August issue of Valve World Americas.