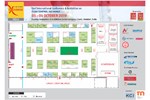 If you want to book a stand to be at this year's Flow Control Exchange then you need to act quickly – almost 75% have already been taken.
This second Flow Control Exchange will take place 3–4 October, 2019 at the Bombay Convention & Exhibition Centre Goregaon (East) in Mumbai, India.
The event itself will feature four knowledge channels: a high-quality conference; hands-on practical workshops; technical short seminars; and an exhibition of international manufacturers.
The Steering Committee who will help putthe conference program together represent: Gujurat Narmada Valley Fertilizers & Chemicals; Engineers India Ltd; Fluor; Honeywell UOP, Mangalore Refiner & Petrochemicals Ltd and Petrofac.
Key topics identified that have been identified for the conference include:
•    Fugitive Eeissions
•    LNG applications
•    Procurement (incl. digital, online)
•    Control systems
•    Digitalization of the valve industry
•    Power generation
•    Chemical & fertilizer industries
•    Managing India's aging plants
•    Corrosion & erosion
•    Safety, etc
One thing that is certain is that the Flow Control Exchange India 2019 certainly promises to exceed the success of the 2017 edition. For information see www.flowcontrolexchange.com or contact the exhibition organizer Mrs. Kay Creedon at k.creedon@kci-world.com