Online, Digital & Social Media  Advertising Concept
The Fugitive Emissions Journal website services end users in a number of markets, all related to environmental compliance. Some examples of these markets are: oil & gas, chemical, petrochemical and other industrial processes.
The major advantages of providing services through the internet are obvious; fast, interactive, direct, globally accessible for 24 hours a day, but it is not just these properties that make the website an attractive medium. The synergetic effects with our other Valve World channels make it an even more powerful medium. Executing premium content through a reliable brand, Fugitive Emissions Journal has successfully managed to transfer traditional readers of the magazine and visitors of bi-annual conferences to web channels. This created a strong international community that currently has over 60,000 unique visitors per month.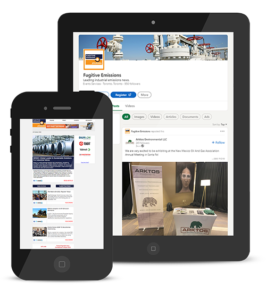 The Online Media Channel
The three main activities from the Fugitive Emissions Journal online media channel are:
Websites
E-Content
E-Consultancy
Webvertising
The Website creates excellent opportunities for focused communication with the visitors of the Fugitive Emissions Journal website at a fraction of the cost of a traditional media campaign. It offers direct access to your corporate webpages and brand exposure to the specialists in the business through extensive webvertising options.
What makes webvertising on Fugitive Emissions Journal interesting?
Members are specialists, not general visitors
It improves your branding
It generates sales leads
It offers direct access to your corporate website
It strengthens corporate position on the web
Controlled placement of web-ads
The website has global traffic
E-Consultancy
With our in-house knowledge of Online Media and Internet, we can offer you tailor made services. Some examples are the creation of a mini website or website consultancy. Software and applications, e.g. content management system or E-Catalogue are also available.
For more information on the options of participating in the Fugitive Emissions Journal website or more specific information, please contact Mr. Jorge Garces, by e-mail: j.garces@kci-world.com.