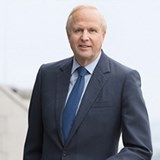 BP's Group Chief Executive, Bob Dudley, spoke on climate issues during London's Chatham House Corporate Leaders series. Dudley set out the necessary components in order to achieve a net-zero emissions world, including:
•

Zero-carbon heat and power, provided largely by renewables and supported by decarbonized gas, including the use of carbon capture use and storage (CCUS).
•

Electric and hydrogen-powered cars on the roads and the skies and seas navigated by planes and ships powered by biofuels and hydrogen.
•

A circular economy over the throw-away culture.
•

Nature's power harnessed to reduce emissions through planting trees and nurturing peatlands.
Dudley also expressed that BP believes the world is not on a sustainable path. "We support a rapid transition to a lower carbon future; and we agree on the need for the world to move to net zero emissions," he said. In conclusion, Dudley singled out carbon pricing as the most efficient and equitable tool available for driving a global energy transition.