Located in the industrial heart of Germany, Zwick Armaturen GmbH manufactures triple offset metal seated valves with German know-how and strict quality control measures. The company provides its customers with pride, 'Made in Germany' performance assurance for all its products.
After four decades of experience in design and production of valves, Zwick excels at the creation of state-of-the-art flow control products for the global oil and gas, chemical, petrochemical, energy, offshore, district heating and steel industries. Its in-house design enables the company to offer its customers customized product solutions making it internationally acknowledged for its services; Zwick has worked very hard to achieve excellence on a global sc

44 Years of Excellence
Today, the name Zwick is recognized as one of the most innovative and flexible manufacturers of metal seated valves. Founded in 1977 Zwick GmbH's, this year the company celebrates its 44th anniversary, boasting more than 100 employees at its main facility in Ennepetal, Germany. With the recent 4,000 square meter increase of production facility space at its German location, and the expansion of office space by 400 square meters, the number of expert employees at Zwick will continue to rise to exceed the expectations of clients.
In Ennepetal, the company's 4,000 square meter ware-house is stocked with over 5,000 valves and ready to mount parts, which makes it one of the largest stocks of triple eccentric valves in the world. As a result, Zwick can always assure short term delivery times and flexibility in material selection, including specialty materials like duplex, super duplex, or bronze.
Unusual and specialized requests are handled with the highest care and priority. "The basis for success is, and al-ways will be, the mixture of know-how, high quality, and the flat hierarchical structure within the company," said Sales Manager Marcel Zwick. This is also a key to success for the whole company to follow and work towards every day at the factory. Zwick makes sure that they pay attention to the smallest details to ensure optimal service to the customer. As a family owned and operated company Zwick's focus is quality, delivery, integrity & performance.
International Expansion
2021 also marks Zwick Valves N.A. LLC's 11th year in business as the North American headquarters for Zwick Armaturen. In 2010 Hans Zwick took control of the distribution for North America and with the help of Dave Buse they located a 35,000 square foot facility in Deer Park. An integral part of Zwick's business model is the massive inventory of valves that it houses in Deer Park, Texas, U.S.A. In addition to its inventories at the three factories in Ennepetal, the Deer Park facility holds a variety of valves with sizes ranging from 2" to 36". Dave comments on the importance of inventory: "There have been many occasions in the past when an end user had an emergency need for a large diameter product or high alloy valve. Zwick would step up and utilize local inventory, working overtime if necessary, to get the product to the U.S. in a week or less."
Another key part of Zwick's business model is to remain ahead of the curve. In optimal times, Zwick had the right amount of inventory to meet quick deliveries needs for capital projects held on very tight schedules. Deliveries from other manufacturers could be pushed as much as 36 weeks. Many end users now associate Zwick's integrity with design and delivery, and have therefore made the decision to partner with the company for projects. In hard times, many end users and EPCs that did not want to depend on the global supply chain to meet their valve needs, which provided the company the opportunity to book many small, medium, and large capital projects.
Automated Valve Machining
The company manufactures valves for many different industry applications, all of which include the core features that have sustained Zwick since the beginning. The company's first design offering, true Zero Leakage with Zero Friction, has lasted the test of time. There are now tens of thousands of Zwick valves installed internationally that have been in service for over 10, 15, & 20 years.
To ensure that they remain on the cutting edge of new technology, Zwick has invested heavily in research and development (R&D) for new technology, to further improve their products and create new lines to best sup-port their customer's applications. A strong focus is placed on developing new products that complement the proven Tri-Con features. Thus, Tri-Block and Tri-Check valves, Tri-Cryo, and Tri-Shark have been introduced to the market.
The TRI-CON is Zwick's standard TOV offering, which delivers Zero Leakage with true Zero Friction while cycling the valve. Tri-Con valves are used everywhere reliable function and absolute tightness are essential for the user or operator. Along with standard carbon steel, the Tri-Con is available in all chrome materials, and high alloys. Many high-tech features of the valve, like the unique 25-degree conical seating which eliminates all the friction during the seating and unseating of the valve, result in an extremely long performance life. These valves are found mainly in applications of waste gases, liquids, hot water, or steam at low and high temperatures of up to 815°C. Other important markets include the chemical and petrochemical industry, especially in critical applications. The standard portfolio of products starts with sizes from DN 50 to DN 1,800 and pressure classes from PN 10 to PN 160 and corresponding inch diameters (2"-78") and ANSI pressure classes 150 to 900.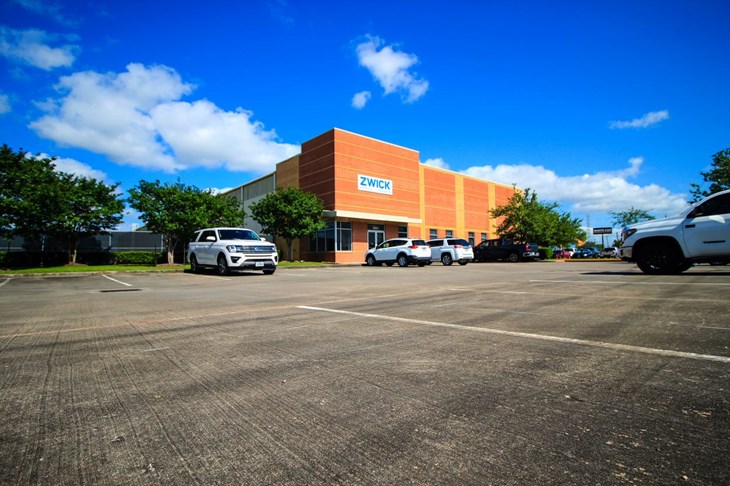 The TRI-BLOCK, double block, and bleed valves have one cast or fabricated body with two shafts & discs as well as a bleed port. Combined with a unique linkage, this style valve allows both discs to properly torque into the seats. More and more end users are requiring double block and bleed systems when isolating fixed equipment for maintenance or repair. The 300lb valve offering is made in the same requirements by ANSI B16.10. "If a customer has a gate valve that he does not have faith in shutting off, the Tri-Block can be installed without any piping changes. This provides the operator with the com-bination of a safety integrity system, a double block, and a bleed, in one valve."
The TRI-SHARK is Zwick's control valve offering. The Shark Tooth Cartridge is a patented product by Yeary Controls. It is a recognized fact that there are very few rotary style valves that are capable of actually providing the kind of true "equal percent flow characteristic" that is the most desirable and useful characteristic for excellent flow control. This, however, is now be-ing accomplished by simply attaching the Company's proprietary SharktoothTM Control Cartridges to the downstream side of Zwick butterfly valves to achieve this. It incorporates a shark tooth control cartridge to deliver a true equal percentage flow curve and provide aerodynamic noise attenuation. It also reduces liquid cavitation while delivering the total range of benefits offered by the Tri-Con, thus providing customers with a control valve and a block valve, all-in-one. Sever-al markets have recognized the advantages of the Tri Shark: larger diameters, high alloy materials and high-er-pressure withstanding.
Another product gaining traction with is the Tri-Check, an engineered tilted disc check valve. It incorporates most features of the Tri-Con: laminated seal ring, zero leakage, zero friction through travel, integrity of shut-off, and it has a special stop/check feature utilizing lost motion coupling. "These valves are sold per application as each application requires specialized check system. We have been seeing a lot of applications that require a larger diameter, and that demand is one of our core competences."
The TRI-CYRO is Zwick's cryogenic model, for applications down to -325 F in 150lb thru 600lb and is avail-able in all standard sizes. Several third-party testing procedures have been conducted to verify the ability to offer Zero Leakage at cryogenic temperatures to as-sure the highest quality.
Zwick is constantly seeking out new markets and applications for its products. The Tri-Con with its versatile design features is beneficial in multiple other applications outside of its traditional markets. At the same time, Zwick is seeking out new partners internationally to help find new markets for future endeavors.
High Quality Standards for Valves
• DIN EN ISO 9001
Quality Management
• TA LUFT I + II
Emission control
• FIRE SAFE API 607 (5TH AND 6TH ED.)
Valve testing according to the directive of Fire Safe and Fire Tests.
• FIRE SAFE BS 6755
Valve testing according to the directive of Fire Safe and Fire Tests.
• CE-MARKING
Health & service regulations.
• SIL 3
Reliable products.
• 2014/68/EU
Pressure directive as per PED Module H.
• ISO 15848-1
Emission test for rotary valves according to API641 Type testing for quarter – turn valves for fugitive emission.

Contact Information:
Zwick Armaturen GmbH
Telephone: +49 (0) 23 33 / 98 56 5
Email: info@zwick-gmbh.de
Zwick Valves N.A.
Telephone: 1-289-478-4701
Email: davebuse@zwick-valves.com
www.zwick-valves.com