Chesterton's Contribution to Emissions Abatement
FEATURED STORY
Constant Innovation:
A.W. Chesterton is a family company, with a customer-focused approach to industrial sealing. Providing the industry with engineered fluid sealing solutions, Chesterton strives to exceed customer expectations, and enable them to improve their processes.
Fugitive Emissions Journal was pleased to speak with Raman Hanjra, Director of Global Product Line Management, and Phil Mahoney, Director of Engineering Services for Stationary Equipment, about the company's current contribution towards emissions abatement.
By Sara Mathov
Overview of Chesterton
Every successful company, regardless of industry, knows the importance of continual innovation. When A.W. Chesterton Company launched in 1884, it was as a Boston-based purveyor of steamboat and engineering supplies. "We started on the shores of Boston Harbor, as a supplier for the marine industry. Then, we came out with our first packing product, for pumps," relayed Hanjra. "Now, we have six product lines." Today, the company has grown to be a solutions-oriented manufacturer of sealing devices for the reliability and efficiency of plant equipment, improved plant maintenance, and cost-saving initiatives.
Chesterton's mission is: "To provide industrial equipment and process industry customers with innovative and en­gineered fluid sealing, protective coating, and lubrication solutions that exceed expectations and enable them to perform better, compete harder, and make the world a cleaner place."
To accomplish this mission, Chesterton has always po­sitioned itself as an innovative company. "A part of our mission is to be a leader in emissions reduction, and we need innovation to accomplish this, so that is what we do. We come out with innovative, truly game changing products to meet targets; be it emissions, compliance, efficiency improvement, reducing overall cost, and more."
Chesterton is currently focused on reducing emissions, as it understands the importance of emissions abatement. "From a health and safety standpoint, to make our en­vironment more livable, emissions reduction is a must. Globally, there are detrimental health effects due to pol­lution, and we as an industry need to work towards emis­sions reduction," continued Hanjra, "which is heavily on my mind because I have seen it firsthand."
The Global Methane Pledge
Many volatile organic compounds (VOCs) related regulations have historically focused downstream, including refineries and petrochemical processing plants. Hanjra believes this focus is now being broadened to address the complete oil & gas value chain, including production and transportation. There has been special emphasis on the emissions from natural gas (90% of natural gas is methane) production and transportation. "Providing sealing solutions for control valves, or isolation valves used in natural gas extraction, transportation, and processing, is how we contribute to the emissions challenge." To directly address the call for meth­ane reduction and support the Global Methane Pledge2, Chesterton has existing products and is actively working on new certified low leak technologies for the methane market.
From a valve technology standpoint, there has been a strong emphasis on emissions from isolation valves, that are gen­erally low cycle, but the volume of these valves in oil & gas markets is very large, according to Hanjra, creating a lot of opportunities to reduce emissions when looking at isolation valves. "Currently, I feel that this market has been well ad­dressed, so we are now putting our lens on high cycle and higher temperature control valves." Control valves are used in a lot of applications in the methane value chain. "Accord­ing to the EDF, methane is estimated to be responsible for about 25% of global warming and 10-15% of the total meth­ane from human activity is emitted by the gas industry, as per McKinsey Sustainability Report of 2021."
Chesterton maintains a continuous quality improvement process and encourages safe, environmentally friendly prac­tices wherever possible. "Our environmental team looks at each new product to determine if there is anything particu­larly harmful or dangerous in the manufacturing process, and their opinion holds great weight. Sometimes they will request we not use a particular material because it poses a potential risk for the environment. We review everything we develop and how it increases the safety of not only our employees but also our end users. We never commercialize anything unless we determine that it is safe and upholds our environmental standards," said Mahoney.
One of the key things that sets Chesterton apart is the ability to help in fugitive emissions abatement. "That is also one of the pillars of our overall product line strategy, whether it be through product development or our interactions with the industry and regulatory bodies globally," said Hanjra. "We make sure we are great environmental stewards by ensuring we uphold proper processes internally, respond to industry's emissions challenges, and maintain a high level of expertise in this field to support our customers."
Innovation Cycle
At Chesterton, all product related actions are driven by the five-year Product Line Strategic Plan that is in turn driven by market needs or challenges. "We are continu­ally monitoring the challenges that are faced by this mar­ket by listening to our customers, regulatory bodies, and making sure we incorporate those in our new product development projects," said Hanjra.
Product development at Chesterton begins in one of two phases – MVP (Minimal Viable Product Development) or NPI (New Product Introduction). "MVP is essentially concept development. It might not be a product yet, just an idea that is brought forth to a group of engineering experts, scholars, and fellow employees. They weigh in on experiments that test the validity of the material and determine if it shows promise before proceeding to invest the resources to develop it," said Mahoney. "At this stage, we talk about new technologies, for example, sensors, special coatings, and more – these ideas are not necessar­ily linked to one product but may have a broader applica­tion and have to be explored further." Hanjra continued, "Once these ideas are determined as viable, we explore these as business opportunities."
An MVP project can then be incorporated into a formal NPI project. "Once you get to the NPI process, it is struc­tured from start to finish," Mahoney said.
Sometimes, it is the regulatory needs that drive end us­ers to request specs from an OEM. Other times, it is a specific customer need, whether that is improving time between failure, efficiency, or reliability of the equipment. "In some cases, Chesterton can improve their processes, by viewing the need of the market, and assessing where something can be enhanced," said Hanjra.
Chesterton's product line strategic plan emphasizes the need to drive innovation, and for that, "the customer is the key," asserted Hanjra. "Without fulfilling the needs of the customer, innovation would not be a success at all."
Constant Improvement
By participating in standards and regulatory bodies like API, ISO, and the EPA, Chesterton learns about the pain points in the industry, and works closely with the bodies that enforce standards. "We incorporate the current chal­lenges in our innovation cycle," said Hanjra. "We also talk to these associations about the industry challenges that we see, because we want to bring our point of view to light. We then showcase some of the technologies that we are currently using or are working on." By working with these organizations, Chesterton maintains its position in the mar­ket at the forefront of innovation, contributing its ideas and technologies, and actively being a part of current affairs.
Additionally, Chesterton uses its own labs, at its own ex­pense, to help with testing for new standards. This was done when API was working on its 622 standard, relayed Hanjra, by performing tests. "That is how serious we are about emissions abatement," he said, "we used our own facilities because we knew it was important to the industry; that is unique to Chesterton."
Chesterton is a global company, with a strong local pres­ence globally. Headquartered in North America, Chester­ton has locations and stakeholders globally to address problems at the source. "We also have a strong reach in the valve and packing markets worldwide," said Hanjra. "Chesterton is one of the market leaders when it comes to meeting our customers' needs locally."
Facing the Future and Regulatory Changes
When asked what the future holds for the industry, cleaner, more sustainable practices are in mind. "I think the regu­lations in the future will be more stringent if the past is an indicator of the future. Not just in the U.S., but globally, society has seen a much cleaner environment due to the lockdowns and some actions local administrations have put it. There are cities where the citizens had gotten used to sub-par air quality—people experienced what clean air feels and looks like. Given that, everyone is more focused on clean air, and this will lead to new product technologies to meet the new norms," said Hanjra.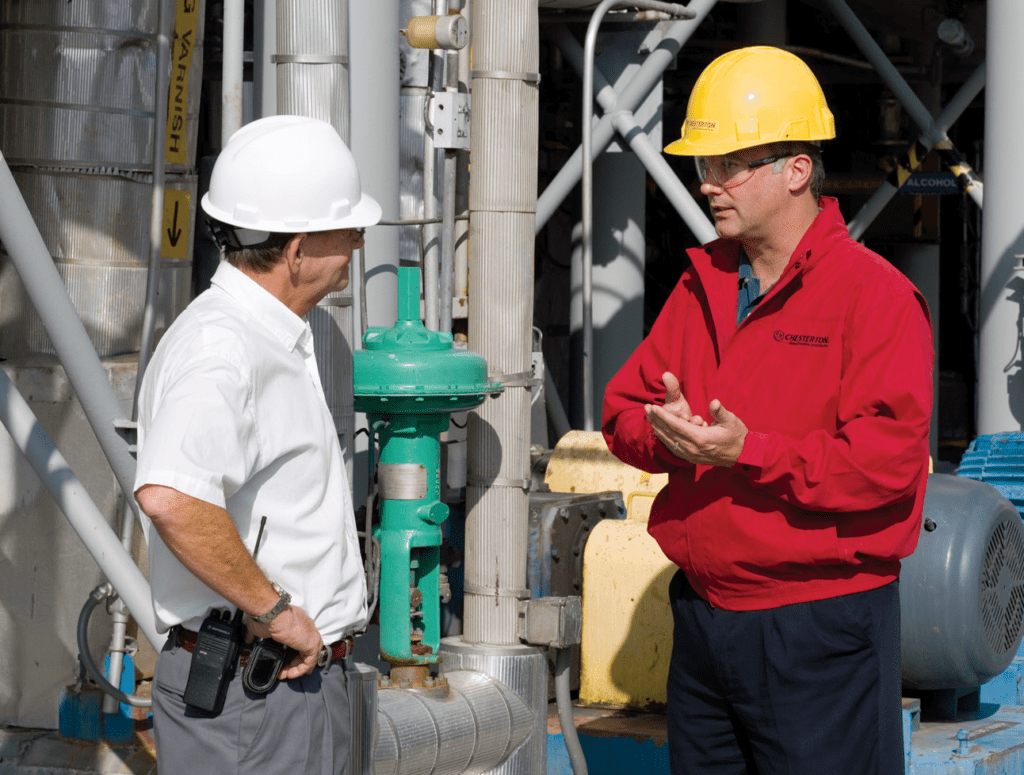 Mahoney continued, "To Raman's point, people like clean­er air. There is no need to be emitting methane into the environment if you have sealing technologies that main­tain leakage well below 100 ppm, and they are not signifi­cantly more expensive than technologies of the past. With new technologies, you get immediate results." Mahoney points out that nowadays there are so many new monitor­ing techniques, such as drones with optical gas imaging, satellite imaging, and more, that make it easier and more cost-effective to locate emissions leaks. Chesterton aims to ensure there are fewer leaks to find by applying the most advanced Low-E sealing devices available.
Chesterton will continue its mission to help solve climate problems and do its part of reducing emissions. "We will always continue to be an innovative company," said Hanjra. "That is our DNA. That is what we will continue to be. With our knowledgeable employees, and intent on achieving our mission, we have a promising future," he concluded.