Covid 19 has swept across the globe in a relatively short period of time, 
halting business operations and production schedules from east to west. During this time, the question of 'What is essential?' has been asked many times. It has been proven that components such as valves, pumps, hoses, stainless steel and corrosion resistant alloys are necessary to continue operations in the most critical processes, even if the world has been told to stay at home. Manufacturers, distributors and end users are now finding ways to power through this pandemic and give support wherever it is needed.
The Industrial Sector

Since the end of January 2020, reports 
of COVID-19 have reached the western shores and have made manufacturers, distributors and end users question how they will continue operations. As news came from Europe and Asia of refineries, manufacturing facilities and businesses closing for the foreseeable future, companies in the Americas thought of ways of maintaining operations during this uncertain time. Unfortunately, this has not possible for some manufacturers and distributors.
Many popular 
conferences and trade shows have also been cancelled or postponed to a later date. This list includes OTC (Offshore Technology Conference), IFAT (World's Leading Trade Fair for Water, Sewage, Waste and Raw Materials Management), NAHAD's Annual Meeting and Convention, just to name a few. With the loss of these shows and conferences, the industry loses valuable networking and learning opportunities.
The COVID-19 outbreak has had a significant 
impact on the industrial sector. As manufacturing facilities closed down in Asia, American companies wondered how they would get product to their customers on time if exports and imports were halted. Companies have been forced to provide refunds as they are not able to deliver product on time, or at all.
The U.S. steel market has decreased due to steel mills being shut down overseas. Customers who tried to buy stock before all manufacturing came to a halt were met with high prices due to low inventory; this also increases worry about what demand will look like after the pandemic has ended.
Overall, manufacturing figures have fallen to their lowest point in over a decade, according to the IHS Markit Flash U.S. Manufacturing Purchasing Managers' Index (PMI). The PMI fell from 50.7 in February to 49.2 at the end of the first quarter of 2020(1).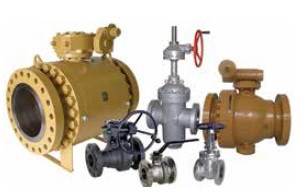 Essential Components
In these uncertain times, there is one thing that is known for sure: components such as valves, hoses, pumps, and stainless steels are essential to powering through the pandemic.
Many valve companies have opened new support channels during the outbreak to ensure their customers get the help they need. ValvTechnologies has launched a Coronavirus Crisis Service Hotline that is open 24 hours a day and is run by service engineers who have full access to past order information, drawings, BOMs, work instructions, and any other relevant documentation. Similarly, Auma Service is offering live video support, as their actuators are often installed in critical infrastructure. In an example of how valves and actuators are essential to everyday life, Rotork's actuators are used in New York City's fireboats that are keeping the city safe during this time of self-isolation
and quarantine. The actuators have an important duty—they control the flow of water to the fire nozzles on the boat's deck, which means they are vital in an emergency. These companies and others, such as DFT Inc., ChemTec and Menger Valve, are keeping their doors open, as they are essential to several industries, including power, pharmaceutical, water, natural gas transmission, petroleum and refining, among others.
Weir Group has announced that their three facilities in China endured a forced shut-down in early February, are now back to full operating capacity. However, in recent days the company has seen increasing interruption at some of their other operations and supply chains as governments step up their efforts to control the spread of Covid-19. The main impact on Weir's facilities so far have been in the U.S., U.K., South Africa, Peru and Malaysia. Weir anticipates further disruptions moving forward, although the extent and duration remains unknown.
Weir's Oil & Gas segment has seen North American order activity start to slow as a result of lower oil prices and widespread reductions in E&P capex. Weir expects to see continued sequential declines in activity through 2020 with E&P capex now expected to be down at least 30% year on year versus their prior expectation of 10%. In Oil & Gas the company has taken immediate action in response to the expected incremental activity declines with an additional USD $30M annualized cost reduction plan, which includes a further 25% reduction in the division's North American workforce and periodic furloughs, while across the Group they have implemented cost reduction measures including a recruitment freeze and restrictions on all discretionary spending. In addition, Weir is curtailing all non-essential capital expenditure so that spending in 2020 will now be significantly lower than their previous guidance, and working capital will be managed so as to minimize the normal seasonal outflow in the first half of the year.
Due to the current market uncertainty caused by the Covid-19 pandemic, Metso has decided to cancel its market outlook statement dated February 6, 2020. The market development in January and February 2020 was in line with
the outlook statement, but uncertainty caused by the measures to globally fight against the spreading of the coronavirus has increased towards the end of March. The cancelled market outlook was as follows: Market activity in both segments, Flow Control and Minerals, is expected to remain at the current level in both the equipment and services business.
In February, Metso's operations in China were largely impacted by the coronavirus situation. The Chinese factories were nevertheless restarted successfully and are now running at the normal capacity. The order intake from China in the first quarter is estimated to be on the planned level, while sales in China will be lower than expected, having a minor impact on Metso's financial performance.
The quickly enforced measures to contain the spreading of the virus in various countries around the world are limiting the mobility of workforce and have started to have an impact on field service operations recently. Currently, Metso's operations especially in India, Peru and South Africa are affected by the restrictions imposed by governments. If prolonged for several weeks, the restrictions might also affect supply chain activities.
The company continues to prepare actions to adapt to short-term challenges in various locations and focus on cost control and cash flow.
Throughout its 103-year history, Parker has been called upon in times of global hardship and adversity. At this time Parker is delivering technologies used in ventilators to treat those who are sick; engine filters and transmission components for heavy-duty trucks to transport food, water and supplies; aerospace rotor craft products to support emergency transport of patients; refrigeration technologies to help keep food fresh and medicine viable; and many other technologies essential to people's daily lives. Across countless critical applications, Parker products and systems are helping with the front-line effort to combat the spread of COVID-19 and support its treatment around the world.
More broadly, given the highly uncertain environment, most companies are planning for a number of potential downside scenarios of varying severity which consider: widespread disruption to operations and supply chain; deferment of original equipment orders; and, reduced aftermarket demand. Each scenario considers a range of further mitigating actions to reduce costs and conserve cash at both the operational and corporate level.
Due to the imposed travel restrictions and quarantine rules, digital technology could come to the rescue as companies or surveyors are unable to travel and go on-site for Factory Acceptance Tests (FATs) or Inspections. Tech companies around the globe have been developing innovative solutions. Vmatch, a Ventil
Group Company, developed a new approach to performing Factory Acceptance Tests (FATs) remotely. Instead of long-distance flights, manufacturers, their customers or third party inspectors can be conveniently located in their home country, yet actively taking part in FATs or inspection jobs cross-border. Remote FATs are based on embedded
platform services and with the of help HD digital cameras, smart wearables and tablets, a Remote FAT is carried out using process and workflow mapping, high-definition video, photos, real-time voice communication and file sharing. Solutions can quickly be deployed on premise or in the cloud. Except for network connectivity, no further software or hardware is required.
Steels are vital to national security, including key infrastructure, power and energy generation systems, and water systems, which means the Americas need reliable sources of steel production. As countries in Asia have started returning to their everyday lives, steel manufacturers have been given approval by local governments to start production. Production goals have increased to help push down prices to a regular level for customers going forward. The U.S. government is also considering cancelling the tariffs on products being imported from China, to keep prices down for companies who are trying to support the industrial sector— at the time of print, this has yet to be decided on. AISI (The American Iron and Steel Institute) has also requested the government to formally recognize the steel industry as an important manufacturing sector, and to provide consistent guidance throughout America during this time(2).

Pumps are also necessary in many industries to keep essential processes running. In a statement on their website, Springer Pumps states, "As part of critical supply chains serving the pharmaceutical and food production industries, we are open for business"(3). The American Water Works Association (AWWA) conducted a survey of over 286 water utilities, and 90% of those utilities said they have business plans that will allow them to continue operations during the pandemic (4). If businesses do not already have a continuity plan in place, they are creating those plans now. The AWWA also offers a Business Continuity Planning for Water Utilities Guidance Document for companies who may need assistance. Other manufacturers, such as Gorman Rupp Co. and Grundfos are continuing operations, while complying to all applicable laws during this time.
Hose manufacturers and distributors around the world are also making sure their services are available to customers at all times. Proco, for example, has reduced staffing at all times but continues to operate as customers need them. Hose companies Flexaust and Kuriyama of America, have both announced that their sales and shipping exercises remain active during this troubling time. As essential businesses in the supply chain, these companies are doing everything that can to safeguard their workforce while also minimizing any potential disruptions to their processes.
Final Thoughts
There may be more uncertain times ahead as COVID-19 progresses, but these essential components will continue to operate, with support available to those who need to run them. Critical operations will not stop when the world needs them most. Most importantly, the industrial sector will return to the state it was in before the pandemic, even if it takes a little bit of time to get there.
REFERENCES
1. IHS Markit Flash U.S. Composite PMI™, accessed at https://www.markiteconomics.com/Public/Home/PressRelease/7bf04abd12954a8581c25bc4d9f5e93a?mod=article_inline
2. American Iron and Steel Institute, accessed at https://www.steel.org/-/media/doc/steel/policy/letters/aisi-letter-to-national-governorsassociation-03242020.ashx
3. Springer Pumps, accessed at https://www.springerpumps.com/productnews/springer-pumpscovid-19-update/
4. American Water Works Association, accessed at https://www.awwa.org/AWWA-Articles/awwa-survey-shows-water-utilities-confident-inmaintaining-operations