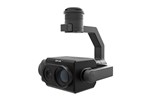 The FLIR® Vue® TZ20 is the first high resolution, dual thermal sensor gimbal built for the DJI® Matrice V2 200 Series and Matrice 300 airframes. Ideal for public safety teams—including police, fire, and search and rescue—as well as industrial and critical infrastructure inspectors, the Vue TZ20 gives drone pilots the situational awareness they need to complete their missions.
Featuring both a wide-angle Boson sensor with a 95-degree field of view and a narrow-angle Boson with a 19-degree field of view, the Vue TZ20 enables pilots to put more pixels on target with ease. With 640×512 resolution and a 20-times digital thermal zoom capability, pilots can safely capture thermal data from a distance. The payload is IP44 rated to provide operability in poor weather conditions and weighs just 640 grams (1.4 lbs.).
FLIR developed the Vue TZ20 with the DJI Payload Software Development Kit (PSDK) and DJI Skyport 2.0 platform, offering simplified, plug-and-play operation through the DJI Pilot Software. Payload functions include thermal video streaming, video recording, and still-image capture with 20-times zoom, enabling operators to conduct missions at safe distances while capturing the thermal data and detail required.
Courtesy of FLIR.