Knowing how to select valves that will meet or exceed volatile organic compound, fugitive emission limits are critical as the costs are exorbitantly high if an operator fails to meet the requirements. Need for Fugitive Emissions is as shown in Figure 1.
As per figure 2. by industry scholars and experts, fugitive emissions in an energy producing plant are highest from valves followed by pumps, flanges and other equipment.
The most common industry codes and practices on emissions are:
ISO 15848-1 and ISO15848-2, "Industrial valves – Measurement, test and qualification procedures for fugitive emissions"
API 622, "Type Testing of Process Valve Packing for Fugitive Emissions" 3rd Edition – 2018
API 641, "Type Testing of Quarter-turn Valves for Fugitive Emissions" 1st Edition – Released 2016
API 624, "Type Testing of Rising Stem Valves Equipped with Graphite Packing for Fugitive Emissions" 2nd Edition – Released 2019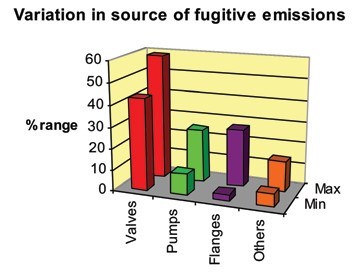 The outlined test conditions and parameters are listed in Figure 3.
While the standards noted in the above chart offer a solid guideline, the community has hesitated to apply them across all businesses. While the change in the Environmental Protection Agency's (EPA) policy is in review, business is as usual in rest of the world, where Helium is commonly used.
While valve emissions have been reduced in North America, they have either increased or not changed in the rest of the world. Current EPA guidelines in the U.S. have driven reduction in valve emissions by handling issues such as:
Leaks greater than 10,000 parts per million (PPM) are being eliminated.
Leaks are being limited to 100 PPM.
A new version of API 624/641/ISO15848 is moving toward allowable leakages of 100 PPM or lower.
Awareness of environmental initiatives in North America has grown tremendously, and such initiatives have given visibility to projects such as the Keystone XL Pipeline.
Hydraulic fracturing is being examined more closely and codes and regulations in this space have been updated.
Policy makers are becoming strict, and inspectors are imposing fines when necessary.
End-users are working closely with the standards organizations to develop mandatory requirements on API 622, API 624, API641 & ISO15848 Part 1&2, such as maximum stem-to-seal tolerance allowance (finishing), criteria on leakage rate/s, maximum temperatures, minimum temperatures, leakage class, cycles, etc. In fugitive emission testing, the braided packing has been successful, which is cost effective for retrofitting existing and stock valves. Braided packing can be installed during shutdown or replaced during a valve refurbishment program.
These packings have been in use since the 1990s. Typically Fugitive emission performance was good at 200 C, until longer test periods at higher temperatures resulted in the binders (chemicals used in producing packings) evaporating. Braided technology has improved since then, but binder disintegration above 200 C in a test period of six hours remains an issue.
The use of braided packings for new valves is not commercially viable or practical compared to traditional dieformed graphite lantern rings. Alternative packings (specially engineered) for new valves are limited to API 602 forged steel valves (valves less than two inches).
With regulation requirements, users must now pay careful attention to the costs of compliance. For example, an engineered solution, such as special braided packing, is about 25 percent more expensive than traditional packing. However, these costs can be offset by and should be considered in the light of:
Lifecycle costs;
Maintenance, shutdown and reliability costs;
Manpower required;
Meeting corporate safety and regulations; and
Value of industry status as green and a clean producer.
Because the requirements may be interpreted differently depending on the end users' locations, the industry is still in partial acceptance of fugitive emission requirements and the use of braided packings for controlling these emissions.
The FutureDebate continues about the development of fugitive emissions regulations from the EPA, API, ISO, ISA, NACE, ASME, and many other organizations. End-users are also requesting consistent research and improvement on current practices, including testing and approvals.
Conclusion
Fugitive emissions are chemicals in physical form that can leak unanticipated within an installation. Valves account for more than 51 percent of fugitive emissions, and greenhouse gases (GHGs) are part of this. Leak screening should be completed on accessible components using a portable organic vapor analyzer in accordance with U.S. EPA Method 21 or using alternate methods that provide an equivalent result.