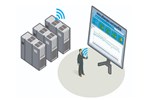 Atlas Copco has released a new version of its SmartLink remote monitoring system, the SmartLink 2.0, that gives air users complete, easily actionable IoT- driven insights, in addition to data, and early warnings from their compressed air system.
With 24/7 connectivity via the integrated, wireless Smartbox, SmartLink 2.0 provides a tailored compressor monitoring service program that gathers, compares and analyzes data in an instant. Information from all installations comes to one server enabling users to view parameters such as uptime, energy efficiency, equipment health, recommendations, and service timeline on their screens or mobile devices.
Users can choose from three levels of remote data monitoring to determine the amount of interactive information they receive: SmartLink Service, SmartLink Uptime and SmartLink Energy.
Image & Details Courtesy of Atlas Copco.