Today, Crane has amassed an awe-inspiring portfolio of valve products that spans the breadth of the industrial manufacturing space with products developed for every need.
To truly appreciate the scope of Crane's offering today, one must first understand the multi-generation history of the valve.
Intrinsic to Valve History
While Crane's valves date back to the mid-1800s, the first valves were actually developed during the Roman Empire. It was used as part of intricate canal systems to transfer water from rivers and fountains to ancient villages and cities, enabling better access to drinking water and improved farming. While the earliest documented valve was the plug valve, evidence shows primitive versions of what we know today as diaphragm valves which were used for controlling bath water, check valves for controlling wastewater, and even butterfly valves.
Bronze was the material of choice, as it could be welded to the bronze and lead pipes that were used in the canal systems of the day. It remained the go-to metal for valve designs until the Renaissance period when everything changed and more sophisticated valves were introduced, making way for new processes like irrigation, hydraulics, and even advanced canal systems.
However, it was during the Industrial Revolution that the valve itself experienced a renaissance of its own. In fact, the valve is what made that period possible. When Thomas Newcomen invented his steam engine in 1712, he introduced an advanced valve that could regulate steam in high pressure environments, making way for a modern era of effective valve use across industries that would continue for the next hundred years.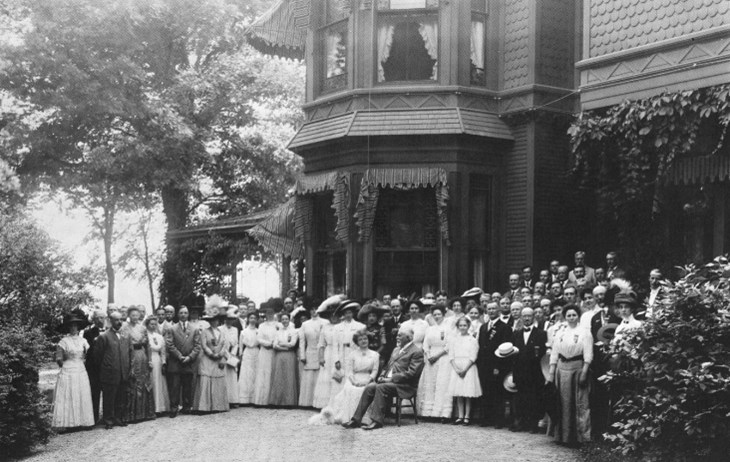 In walks Crane Co., a newly founded brass and bell foundry that introduced its first valve made only of brass in 1858, just three years after opening its doors in Chicago, Illinois. In 1876, Crane obtained its first valve patent for a steam valve, solidifying its place as a leading valve manufacturer; it was known as one of the"Big Five," each recognized for its various globe valve designs. These valves were created specifically for use in steam plants. As steam plants were the major manufacturing process of the 1880s, Crane expanded its manufacturin process to develop a complete line of gate, globe and check valves, making sure to differentiate them from those of the other major valve manufacturers.
As manufacturing processes evolved over the next 50 years, new valve types were introduced. Varying industries,
applications and processes required valves that could stand up to higher temperatures and more demanding environments. It was in the early 1900s that the steel valve made its debut, replacing cast iron valves in steam power plants. Crane was the first manufacturer to install a steel foundry in its integrated valve plant to keep up with demand, enabling the company to offer higher quality products at lower prices, an innovation in its own right.
Valve Evolution
Lubricated plug valves were invented during World War I to overcome the shortcomings of previous plug valve designs, like leakage and sticking. Shortly thereafter, halfway around the world, war veteran P.K. Saunders was working as an engineering draftsman for a coal mine in South Africa when he invented the very first diaphragm and pinch valve to stop and open flow in order to prevent compressed air leakage. This invention, which came in 1928, changed the trajectory of the industry and led to the creation of what is known today as the Crane Saunders® brand of products.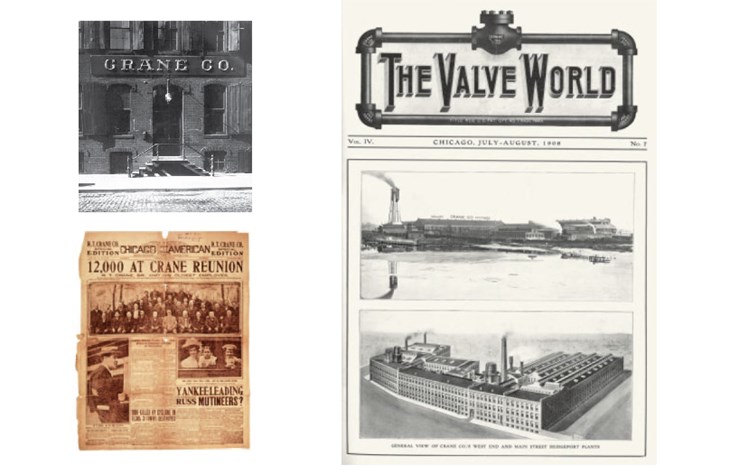 During World War II, navy shipbuilding created a significant need for valves and Crane was there to answer the call, increasing steel valve output capacity fourfold to twenty-five thousand tons annually. In 1945, the company was a pioneer in the production of valves, utilizing steel alloys of various chromium, nickel and molybdenum components to meet new requirements for corrosion resistance and high-temperature structuralstability.
Following the war, there was a rise in refining, chemical and petrochemical applications, as a result of 410ss
and Stellite becoming standard materials and the introduction of the pressure seal valve, for which Crane received the first patent. The company's rigorous approaches to metallurgical science and material testing became the model for the valve and fitting industry. In 1912, Crane built its 160- acre factory, switching wholly to electricity for power, the first and most modern factory of its time.
Advancements in Teflon
Teflon was invented in 1938 by DuPont scientists. It was used as a sealing and lubricating material, opening the door for resilient seated ball valve construction and the eventual production of lined pipe by Resistoflex® in the 1950s. At the same time ball valves began to be equipped with Teflon seats, which led to a diversification of the ball valve across a number of manufacturing industries and processes.
Around this time, Crane introduced a revolutionary tool that would be used for generations. Its Flow of Fluids handbook, Technical Paper 410 was introduced and became the quintessential guide to understanding the flow of fluids through valves, pipes and fittings. Sleeved plug valves eventually began to replace lubricated plug valves, but they were typically more expensive than gate, globe and check valves. As a solution to this pain point, Xomox® offered an innovative program where operators could purchase trial valves at cost. The resulting success led to increased demand and competition in the space.
Shortly after the success of the sleeved plug valves came the financial crisis of the 1970s, when companies began looking for innovative solutions at lower costs and that was when the high-performance butterfly valve was
developed (HPBV). Whereas previous butterfly valve designs had metal-to-metal seats, the modern HPBV instead
used synthetic rubbers making it easier to actuate and less expensive to produce, which expanded its use into new applications.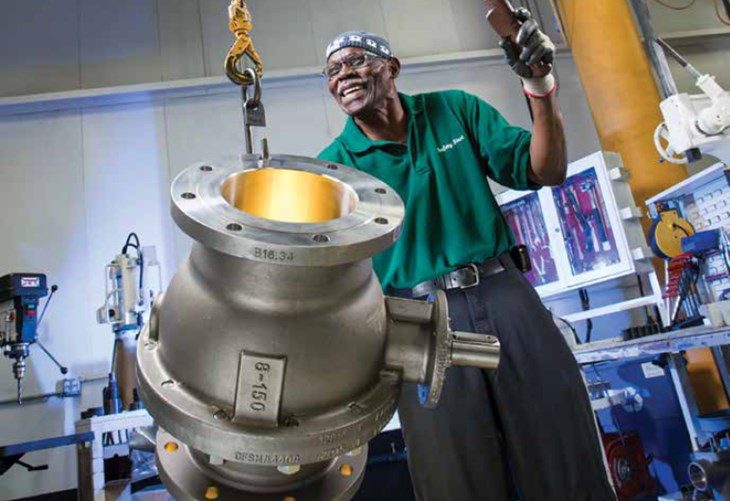 Comprehensive Product Development
The development of the TP-410 as an educational resource for the industry, the strong ethical standards of excellence and service, and the consistent and meaningful product introductions such as the Xomox®XLB lined ball valves, Crane®FKX 9000 triple offset valves, Xomox®XP3 and XP4D sleeved plug valves, Krombach®KFO ball valves, Pacific®CSV gate, globe and check valves, Saunders®I-VUE and M-VUE sensors, and Westlock ®EPIC 2 transmitters to name a few; are what makeup Crane and contribute to the advancement of the industry.
Today, Crane's comprehensive portfolio spans every available valve type, and the company has developed a reputation for supporting the complete business through a range of products and service offerings. When it comes to innovation, Crane understands that what counts is differentiation…offering products and services that set it apart from the competition. Its willingness to embrace change over the decades has been an advantage that directly benefits its customers and there is an excitement about what the future may bring.